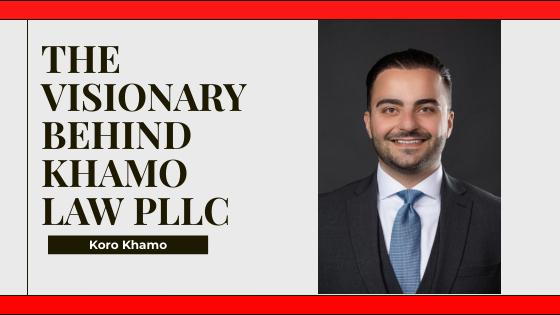 The Visionary Behind Khamo Law PLLC: Koro Khamo
1. Briefly describe your role at Khamo Law PLLC?
I am the Visionary and Managing Attorney at Khamo Law. My main mission as a visionary is to create a top-notch team around me that helps us change the world, one client at a time.


2. Why are you passionate about auto injury law?

To understand my passion is to understand "my why." My Vision statement is "to change someone's world, so that we all change the world together."
 
Auto Injury law or personal injury law is not just a field that I practice, but a personal mission of mine. I have personally seen and experienced the devastating results that car accidents cause. More importantly, 90% of my clientele are middle eastern and about 80% of them do not speak the English language.

I'm passionate about auto injury law because of the difference my team can make in people's lives, especially when we have the ability to speak their native tongue. As a managing attorney, I have the privilege of working with clients from diverse backgrounds and helping them through their legal issues. When an auto accident occurs, substantial damages may be incurred which need to be recovered in order to get back on track financially. More importantly, I have the undeniable privilege of seeking the Justice that the clients need. That's why I'm passionate about auto injury law – because of all the lives I can help to change, by fighting for clients to receive the compensation they are entitled to and deserve. It's incredibly rewarding work that brings me great joy – and that is why I'm so passionate about auto injury law.

3. What are some of your greatest challenges and accomplishments?

From small settlements to settling multiple 8-figures worth of settlements, the ability to seek justice for our clients is one the biggest accomplishments that I have. In addition to changing the lives of our clients is the ability to surround myself with Rockstar individuals, whose mindset is to change the world.

With every accomplishment comes challenges and hardships. The greatest challenge in personal injury is the law itself and how it gets twisted by multi-billion dollar insurance companies. While insurance companies are meant to have your best interest at heart, reality is that they are your biggest enemy. This is true because insurance companies will send you to their so-called "Experts," but they are just hired guns. I am making it my mission to expose the amount of money that these Experts are making from the insurance company to truly show how much bias they have against legitimately injured clients.


4. What are you currently most excited about?


With the coaching that I am receiving, I am most excited to step into the visionary role at Khamo Law. I have hired a team of rockstars that allowed me to implement the proper infrastructure, standard operating procedures, and Key Performance Indicators that is needed to expand properly. With the unwavering growth mindset and with having a rockstar accountability coach, Khamo Law will be a force not to be reckon with.

 
By putting procedures in place, it will allow us to maximize our resources, which in turn will allow us to provide better customer service and results.

 
5. What are your hobbies or current side projects that you have going on?

To anyone that knows me, knows that I have several projects going at any given time. While I am an Attorney by trade, I am an avid real estate investor with a growth mindset of acquiring 100 million dollars' worth of real-estate by 2031.  In addition to the practice of law and real estate, my first Biggby coffee location should be open by the end of this year and hoping to open 30 locations by the end of 2033.

If I am not working or investing, I love to travel the world, trying new foods, and spending time with people I love.


6. What is the best way for people to connect with you?

 

The easiest way to reach me personally is through my cell-phone, 586-484-2296. My office number is 248-466-0606 and email is [email protected].